MILESTONES
23
Worked with the Uttarakhand Forest Department to free the Chilla Motichur corridor of human habitation through voluntary relocation of Khand Gaon II and enabled secure passage for elephants and other wildlife in Rajaji Tiger Reserve, thus maintaining the Rajaji – Corbett elephant population as a single entity
22
Successfully demonstrated the use of mass capture as a method of translocation and reintroduction of eastern swamp deer in Assam
01
Mapped all the 101 corridors used by Asian elephants in India, drew out a green-print to secure them and worked out four securement models.
02
Canopies, corridors and catchments of the Garo Green Spine protected using three flagship species in 16 Village Reserve Forests in the Garo Hills, Meghalaya.
03
Pioneered systematic wildlife rehabilitation and wildlife health monitoring as tools for conservation in India in partnership with IFAW.
04
Raised consciousness of judiciary, enforcement agencies and public to the word 'wildlife crime' and started a whole new arena of the fight against crime.
05
More than 16,000 wildlife staff of over 150 Protected Areas imparted Level 1 anti-poaching training. Also, more than 20,000 frontline staff provided ex-gratia assurance against death or injury on duty.
06
Lobbied to make the whale shark the first fish to be protected under Wild Life (Protection) Act, 1972, in India and ensured its protection by a massive on-ground campaign in Gujarat.
07
Showed how to bring back a once neglected Valmiki Tiger Reserve in Bihar and increased tiger and prey numbers in the park.
08
Manas National Park removed from the UNESCO's list of World Heritage Sites in danger and tripled in size politically with several endangered species being restocked.
09
Species recovery project saves the endangered Central India wild buffalo – progenitor of the world's buffalo stock – and increases its numbers in Udanti Wildlife Sanctuary in Chhattisgarh.
10
Not a single elephant killed by trains in Rajaji National Park for over a decade (2001-11) after a project was undertaken to stop elephants deaths in Uttarakhand.
11
Shahtoosh formally banned in Jammu & Kashmir and a rainbow-product called Pashm-e-Shahi created, creating a sustainable alternative model.
12
Exposed the illegal mongoose hair brush trade, lobbied and got all mongoose species protection under the Wild Life (Protection) Act.
13
Persuaded the Nyishi tribe around Pakke Tiger Reserve to use fibreglass hornbill beaks in Arunachal Pradesh instead of killing four hornbill species and using their beaks to adorn their headgear.
14
First comprehensive survey of the markhor (Capra falconeri), the largest goat in the world, triggers declaration of Kazinag National Park and expansion of Hirpura Wildlife Sanctuary in Jammu & Kashmir.
15
Played a supportive role to the Indian government in its fight against re-opening the ivory trade at CITES, ensuring several years without ivory trade.
16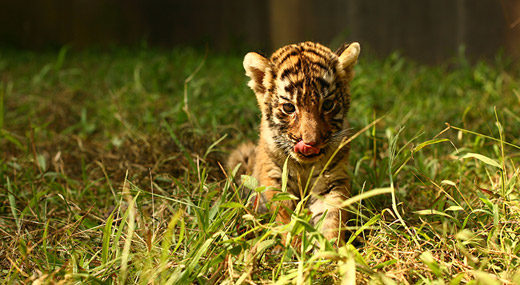 Played a key role in building the only global intergovernmental forum on tigers – the Global Tiger Forum.
17
Assisted in expanding India's protected area network by getting new reserves demarcated in Jammu & Kashmir, Tamil Nadu and Maharashtra.
18
Highlighted snares as killers of tigers and their prey in southern India and assisted in India's first anti-snare walks in Bandipur Tiger Reserve in Karnataka.
19
Conducted India's first private-public restoration of a degraded coral reef in Mithapur in Gujarat.
20
Eradicated the dancing bear tradition in India and rehabilitated Kalandars in four states.
21
Led a campaign in Nagaland to conserve the Amur falcons, which were being hunted in the tens of thousands. No falcons were killed in 2013 and 2014 as a result of this intervention.
---
VISION & MISSION
Wildlife Trust of India (WTI) is a leading Indian nature conservation organisation committed to the service of nature. Its mission is to conserve wildlife and its habitat and to work for the welfare of individual wild animals, in partnership with communities and governments. WTI's team of 150 dedicated professionals work towards achieving its vision of a secure natural heritage of India, in six priority landscapes, knit holistically together by nine key strategies or Big Ideas.
OUR VISION
A secure natural heritage of India.
OUR MISSION
To conserve wildlife and its habitat and to work for the welfare of individual wild animals, in partnership with communities and governments.
---
OUR PRIORITIES: THE NINE BIG IDEAS
To provide at least 500 short term, focused and innovative aid at times of emergencies and conservation issues so as to nip problems in the bud and provide game changing solutions to age old problems.
To combat key wildlife crime using trade control, litigation and capacity building techniques that demonstrably reduce poaching or trade in at least a dozen species or habitats.
Reduce the dependence of at least a dozen local communities on wildlife or their habitats through ecologically appropriate livelihoods and people's participation in conservation.
To recover populations of at least six threatened species or sub-species by lowering their national or global status of threat through direct conservation action.
To improve the existing functionality of six selected Protected Areas (PAs) and restore their ecological integrity.
To increase the welfare of individual displaced animals while enhancing conservation and pioneering science based rehabilitation and wildlife health across India, and in doing so to save at least 5000 lives in the decade.
Demonstrate seven innovative and replicable models of Human Wildlife Conflict reduction to catalyse appropriate changes in policy.
To create a positive and measurable change in people's perceptions to improve the conservation and welfare of wildlife in India with at least a dozen planned campaigns.
To secure critical habitats outside the traditional PA system, especially habitat linkages, wetlands, grasslands, community reserves, Important Bird Areas and sacred groves, thereby increasing the effective protected area of India by 1%.