Temple Tiger Team Organises Livestock Health Camps in Villages near MM Hills Wildlife Sanctuary
SHARE THIS ARTICLE: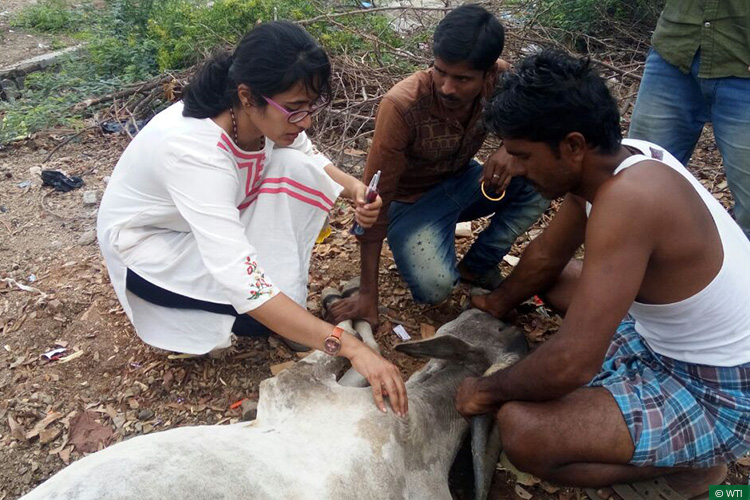 Temple Tiger Project veterinarian Dr Medha Rao treating a cow during one of the livestock health camps conducted near MM Hills WLS
MM Hills Wildlife Sanctuary, Karnataka, August 24, 2017: The Mobile Veterinary Service (MVS) unit established by Wildlife Trust of India (WTI) under its Temple Tiger Project organised livestock health camps in the villages of Dinahalli and Sathyamangala, located on the fringes of Karnataka's MM Hills Wildlife Sanctuary, on August 19. The two villages were chosen since they lack proper veterinary support for livestock, from which diseases can potentially spread to wild ungulates in the nearby Protected Area.
The MVS team informed the Gram Panchayats and residents of both villages a few days prior to the camps. A concerted attempt to build awareness among villagers was also made the day before the camps. The villagers requested that the camps be held either in the early morning or in the evening, as those were the only times the animals and their owners would be available. Accordingly, the camp at Dinahalli began at 7.00am while that in Sathyamangala was held at around 4.30pm.
Livestock health camps prevent disease spill-over from domestic to wild ungulates, which form the principle prey base for tigers and leopards in MM Hills WLS.
In Dinahalli, dewormers were dispensed for a large number of cattle and goats. Temple Tiger MVS veterinarian Dr Medha Rao also provided careful instructions about dosage and demonstrated the proper method of drenching, since faulty drenching can result in aspiratory pneumonia in the animals being treated. A few cases involving lameness, minor wounds, ectoparasites and eye infections were also treated. The demand in Sathyamangala was largely for dewormers, and Dr Rao once again conducted a demonstration on the correct method of drenching.
WTI's Temple Tiger Project, of which the MVS unit is a part, was initiated in collaboration with the Nature Conservation Foundation. The project aims to address wildlife emergencies, mitigate human-wildlife conflict, and prevent disease spill-over from domestic to wild ungulates, which form the principle prey base for tigers and leopards in the MM Hills Wildlife Sanctuary.
In addition to addressing the latter goal, livestock health camps also aid in the development of a mutual understanding and trust between the MVS team and villagers living in close proximity to the forest and its wildlife. Such a relationship, it is hoped, will lead to better cooperation with local communities during instances of human-wildlife conflict, allowing the project team to mitigate such situations more effectively.
---