When art initiates conservation efforts in Jharkhand through school kids
SHARE THIS ARTICLE: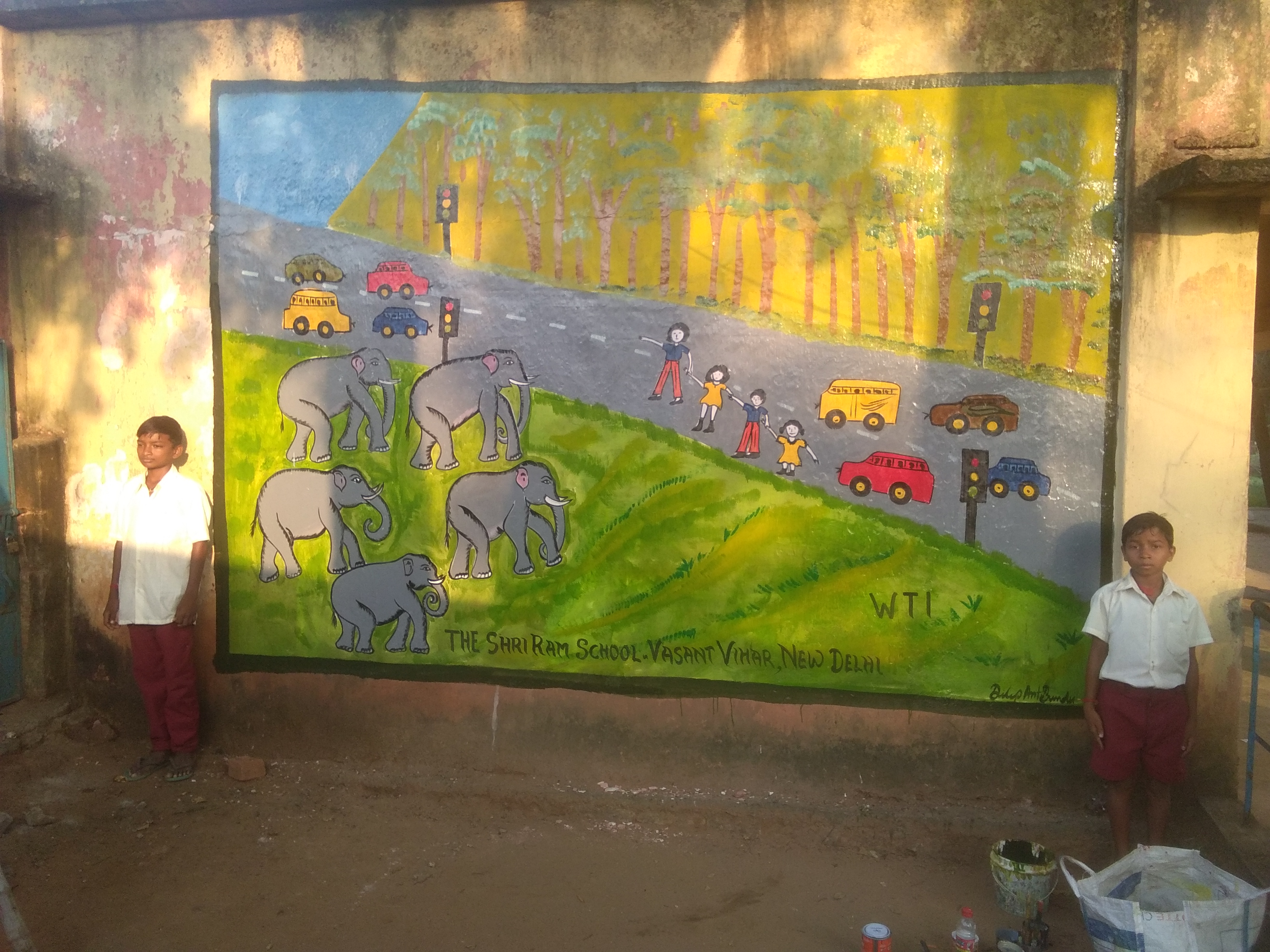 Highlights
WTI-GCC, Jharkhand conducted an awareness programme to sensitize school children on elephants and their 'Right of Passage'.
10 schools near Mahilong-Kalimati corridor in Ranchi District of Jharkhand targeted 550 students participated in painting the wall depicting elephants 'Right of Passage'.
40 school staff including teachers and principals also supported these students.
590 individuals sensitized and pledged their support to save elephants and their habitat.
India has the largest number of wild Asian Elephants, estimated at 27,312 according to 2017 census by Project Elephant, i.e. about 55% of the species' global population. Research shows more the forest habitat is degraded, the farther an elephant herd has to roam in search of food, water as well as space. As elephants are forced to range farther and farther afield, this brings them into conflict with humans. Human-Elephant Conflict (HEC) is a very serious issue in India today. Over 400 humans are killed in encounters with elephants annually, and crops and property worth millions are damaged. In contrast, many elephants are also killed (about 1500 in the last 15 years) by human greed and indifference, and in retaliation due to conflict: through train-hits, poaching, poisonings, and electrocutions.
THE NEED
Wildlife Trust of India, in its 2017 publication 'Right of Passage: Elephant Corridors of India' has identified 101 elephant corridors across India of which Jharkhand has seven corridors and four and three interstate ones with West Bengal, and Odisha respectively, facilitating movement of about 680 elephants. Between 2000-2016 around 156 elephant deaths were recorded. To tackle such conflicts and avoid losses on both sides, it is important to strengthen the human-elephant coexistence through sensitization and generating awareness in local communities of forest fringe areas.
To address this, one of the key ways adopted by the organization is to partner with a network of grass-roots individuals and organizations, since no conservation initiative can achieve long-term success without the support of local stakeholders. 'Green Corridor Champions' (GCCs), working in tandem with WTI and concerned state forest departments, they sensitize local communities about the importance of elephant corridors and, with the judicious and appropriate use of social, economic and technical interventions, and the vital support of local governments, help in ensuring the safe passage for elephants through the corridor and avoiding human-elephant conflict.
STRENGTHENING HUMAN-ELEPHANT COEXISTENCE
Undertaking awareness campaigns to build support and sensitize locals in and around the fringe areas for corridor securement and protection is one of the important responsibilities of the GCCs to create a social momentum to secure the corridors and provide 'Right of Passage' to the elephants. Wall painting has been a significant and interactive way for sensitization which WTI has effectively implemented in other parts of the country as well
.WTI's GCC in Jharkhand, The Jungle Boy NGO led by Mr. Amit Kumar Lal recently conducted an awareness programme supported by the Shri Ram School Delhi, through a wall painting initiative to sensitize school students and teachers on wildlife conservation in 10 schools in and around the Mahilong-Kalimati elephant corridor in Ranchi District. This first of its kind activity in the region was conducted to commemorate the 'Wildlife Week'.
In each school, two walls, strategically facing the road were painted to have a maximumvisual outreach of on-lookers. Around 550 students participated in this initiative along with 40 school staff including teachers and headmasters. The children also shared their knowledge about elephant ecology and recalled incidents of conflict they have come across like crop raids, human deaths, elephant deaths etc and showed their willingness to save forests and animals to avoid such impacts of HEC. Mr. Lal also shared some basic tips in the schools to avoid HEC like avoiding open defecation at night outside dwellings, to be in the group while passing through a forest area, silently move away from the area if elephants are spotted, not to chase elephants, etc.
RESPONSE
An optimistic response was observed by the students and school staff during the first ever activity of this type on wildlife conservation conducted in the area. Everybody took a pledge to save the elephants by providing and securing their 'Right of Passage'.
The Principal of Rajkiya Prathmik Vidyalaya, Khudimadukam (one of the targeted schools) appreciated WTI-GCC's efforts and said, "Such type of activity involving children will not only sensitize them but also their families, friends, and the public. Just by looking at the paintings which they have drawn gives out deep and impacting message on wildlife conservation".  The principal of another targeted school 'Rajyakrit Prathmik Vidyalaya, Tilaimarchai' suggested that "we all should do plantation in and near the corridor and also construct water ponds for elephants so that they won't have any need to come outside the forest area". One of the students said, "Mighty elephants are the creator of forest and we will do whatever it takes to save them and protect the forest, their home."
FURTHER PLANS
WTI along with its GCCs will be conducting such events for sensitizing locals along the different elephant corridors of India. This is to establish support of the public for securing the elephants' 'Right of Passage', by minimizing threats, strengthening human-elephant co-existence and thus facilitating unhindered elephant movement across the corridors. WTI's GCCs will be conducting such school level event thrice a year targeting school students and local public.
Pic Courtesy: Amit Lal/ The Jungle Boy NGO