WTI Partners with BVIEER, ONGC to Conduct Training for Conservation Guides and Naturalists
SHARE THIS ARTICLE:
Khumbargaon, Maharasthra, August 3, 2016: Wildlife Trust of India (WTI) has partnered with Oil and Natural Gas Corporation Ltd (ONGC) and the Bharati Vidyapeeth Institute of Environmental Education and Research (BVIEER), Pune, to conduct a skill development course for conservation guides and naturalists from Sultanpur National Park, Corbett Tiger Reserve, Rajaji National Park and Titali Trust. The first phase of training was held at Bhigwan, a wetland near Khumbhargaon (120km from Pune) on July 28.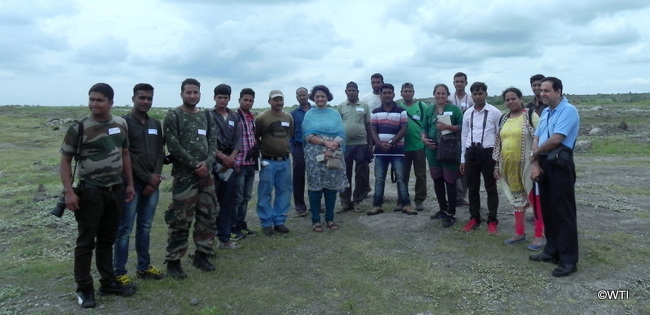 The project team with participant guides at the Bhigwan wetland, Maharashtra
The various State Forest Departments appoint guides and naturalists to accompany tourists into national parks and sanctuaries, their role being not just to spot and identify local wildlife but also to educate the tourists in aspects of wildlife conservation and management. A majority of these guides/naturalists are from communities located around the Protected Areas (PAs); earning their livelihood in this manner makes fringe communities stakeholders in wildlife conservation.
The WTI-BVIEER-ONGC training course intends to increase the overall knowledge of participant guides in the areas of ecology, wildlife conservation and sustainable tourism. The programme, it is hoped, will help them develop as nature tourism entrepreneurs both within and outside PAs, which will help them generate more income while furthering conservation awareness and action among tourists.
A project monitoring team from WTI and ONGC visited the Bhigwan wetland on the backwaters of the Bhima River with a wildlife expert, trainers from BVIEER and the trainees. Bhigwan attracts a large number of migratory birds from North India and other countries every year. Colonies comprising 100-150 flamingos and cormorants are reported. A number of birds like the grey heron, pond heron, greater flamingo, spot-billed duck, black-winged stilt, and pheasant-tailed jacana were seen during the visit.
Greater flamingo (Phoenicopterus roseus) seen at the Bhigwan wetland

Wildlife expert Kiran Purandare educated the guides about the ecology of these birds and dispelled some long-held myths regarding snakes. "You are ambassadors of nature", WTI's Indu Kumari told the guides, "and in the short duration while you are interacting with the tourists you have to also communicate the importance of forests and wildlife and their conservation."

One of the guides, Viru Singh Negi, said that the training was helping him not only be better informed, but would benefit him financially since tourists prefer trained guides. The conservation guides suggested that tourist trails be designated in the Protected Area for trekking and birding. They also suggested that binoculars be provided to them for better birding practices.