Environment and Nature Quiz: An initiative of Kannur Kandal project
SHARE THIS ARTICLE:
Calicut, 18 September, 2018 : Wildlife Trust of India recently organised a quiz contest at Farook College, Calicut on 18 September 2018. The contest was a part of the Kannur Kandal project, focussing on the conservation of mangroves.
The Kannur Kandal Project – 'Kandal' being the Malayalam word for mangroves – aims to ensure the survival of existing mangroves and increase the acreage of such coastal wetlands across Kannur, potentially making it a prototype for other coastal districts in Kerala and the rest of the country. The project is executed in partnership with Apollo Tyres Ltd.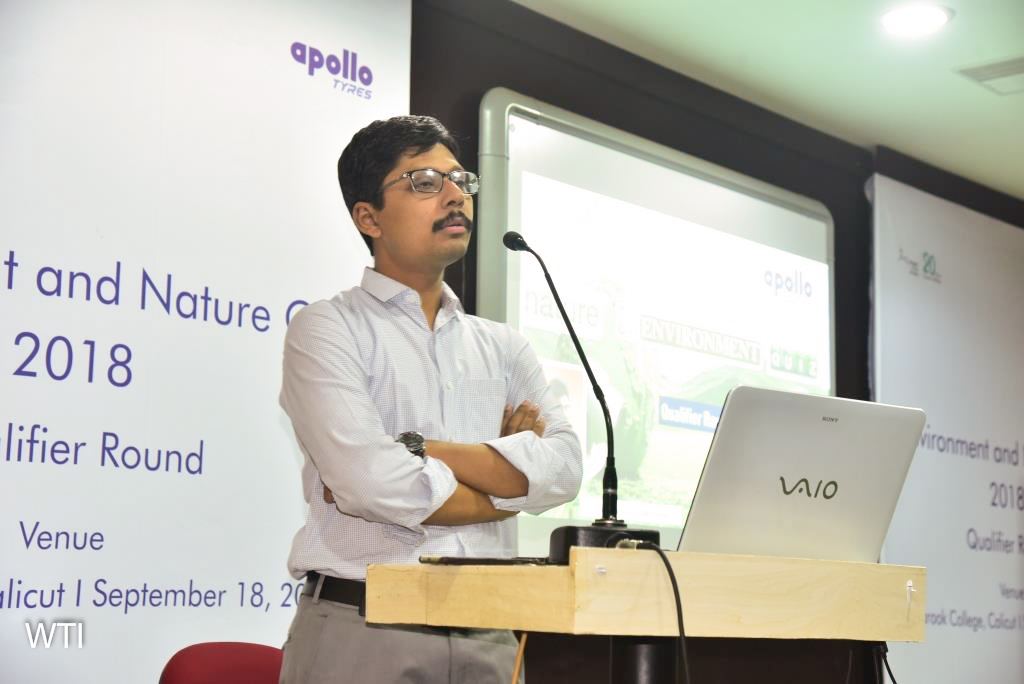 The main focus of the contest was spreading awareness of mangroves along with environment and nature amongst the college students. This was the qualifier round and eight colleges from three different universities viz, Calicut University, Kannur University and M.G University participated in the event. The top six scorers amongst the participants were selected for the grand finale which is scheduled during December 2018.
"Youth has the power to construct and destruct- the constructive power of youth should be channelled to make a world better place. For that, a sound knowledge of the environment and nature is a must" said Project head, WTI, Sajan John said during his inaugural speech.
Vishwabandhu B, Group Manager-Sustainability, Apollo Tyres briefed about the CSR initiatives of Apollo tyres and how Kannur Kandal project is important in spreading awareness on mangroves.
A quiz was conducted by nationally acclaimed quiz master Rajib Sanyal. The enthusiasm of students and faculty members was worth appreciation. Dr Kishore Kumar, Dept Head of Botany, Farook College led the activities and helped WTI in making it a success. Amongst the participants were, Sacred Hearts college, Thevara; St. Alberts College Ernakulam; Bharat Matha College Thrikakara, Farook College Calicut, Zamorin Guruvayurappan College Calicut, Payyanur College, Payyanur, Sir Syed College Kannur and Brennan College Thalaserry. We look forward to many such events on awareness and thus orienting the youth.